Paganistan: Notes from the Secret Commonwealth
In Which One Midwest Man-in-Black Confers, Converses & Otherwise Hob-Nobs with his Fellow Hob-Men (& -Women) Concerning the Sundry Ways of the Famed but Ill-Starred Tribe of Witches.
Hurrahya!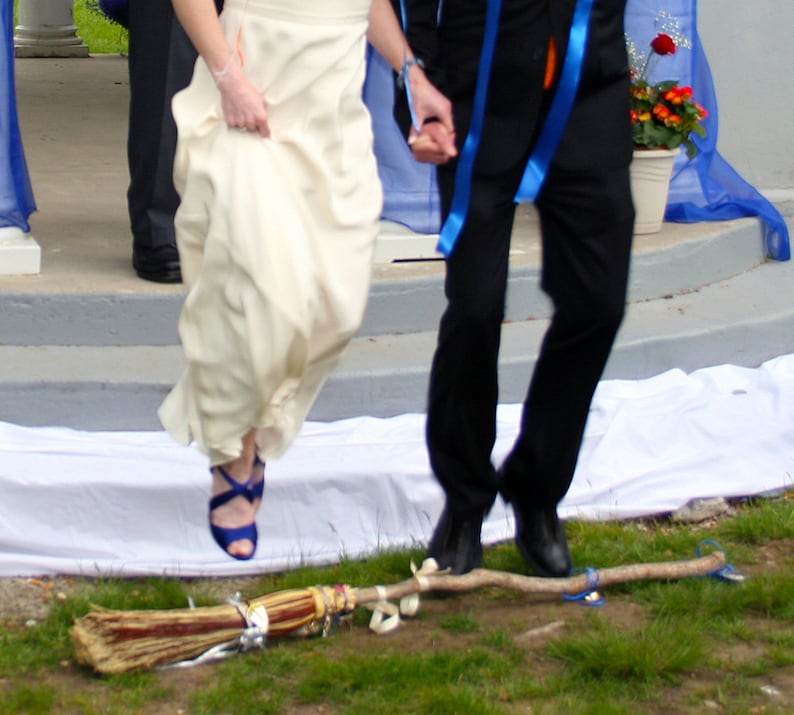 I have a sacred word to teach you.
At a Jewish wedding, when the groom (or whoever) stomps the glass, everyone shouts: Mazel tov!
At a pagan wedding, when the couple jumps the broom everyone shouts: Hurrahya!
Hoo-RYE-yuh, it's pronounced—rye like the grain—and better it be if you rrroll the R. It's an old Witch word, an exclamation of joy. It's one of that odd class of words called vocables, words that connote but do not denote. It doesn't really "mean" anything, but through such words we enter into that archaic, pre-verbal state of mind that characterizes animal calls, infant sounds, and cultic cries such as Euoi!
The rubrics of the Rites of Handfasting don't specify a call as people jump the broom—the broom that represents, inter alia, the threshold of the new life into which the couple are entering together—but Hurrahya! is what you shout as someones leaps a bonfire, so it makes a deal of sense for handfasting as well. Hey, what's good for the witch is good for the warlock.
As to where the word comes from: Reply hazy, try again later. This amateur linguist's guess would be that it's related to hurrah, another common vocable used by cowan and pagan alike. Hurrahya, though, is the Witches-only version.
In my role as wise old sage (i.e. bullshitter) I should probably be telling you that Hurrahya was originally some ancient god-name. (With that explosive hur- at the beginning, and the nice open -ya at the end, I'll leave it to you to guess Who.) Well, you can believe that if you want to. When, at the handfasting later today, I pass along just that story, I plan to be wearing a wry twist of the lips as I do so. Caveat credente: let the believer beware.
At a wedding, bride and groom are as goddess and god. Joy to the bride!
Hurrahya!
Last modified on