SageWoman Blogs
What if your belly — the most maligned feature of women's bodies — were not shameful but sacred? What if your belly were home to the profound wisdom, power, and guidance ready to reveal itself to you through image, breath, story, and ritual? What if your body's center were in fact sacred space, temple of the Sacred Feminine as She lives within you?

If you want to make peace with your body and your belly — if you want to claim the treasure waiting for you within your body's core — join me on this journey of discovery. We'll invoke story, image, breath, ritual, and more as we go.
What is magic, and what particularly is "belly magic"?
In one sense, magic is a process through which we influence events, producing an outcome to our liking. We cast a spell, we shape events according to our will. Borrowing terms from quantum physics, we collapse waves of possibility into actuality according to our intention.
In another sense, magic is a process of aligning our individual will with universal purpose. Borrowing words ascribed to Jesus, we might say "Thy will be done, O Lord, not mine."
Alignment
Both the Rite for Reconsecrating Our Womanhood and the Rite for Invoking the Sacred Feminine (each a sequence of 23 belly-energizing, power-centering movement and breathing exercises) culminate in the Alignment gesture enacting these words:
May all my actions be effortless;
may my heart's desires be manifest;
may the universe accomplish her purpose through me.
As we align our individual wills with universal purpose — with the All-That-Is however you name this all-embracing Power of Being — what needs doing gets done. What needs to happen does happen: often playfully, by synchronicity and serendipity, as if by magic.
Our body's center, our bellies, play into the magical process through the umbilical connection between ourselves and the worlds in which we live.
Picture yourself as a sphere nested within an ever-expanding set of congruent spheres, all sharing the same center. In this context, your body's center is in instant, intimate communication with the center of every other sphere, extending throughout the universe unbounded. Allow a vivid image of your heart's desire to come alive within your belly, imbue it with your gut determination, and you've broadcast that image to the world at large.
Or picture yourself as a torus, a spherical vortex in which "inner" is continuous with "outer." In this context, incoming energies concentrate to a single point within your body's center, then emerge from this point out into the world. Your body's center is the one-point through which form dissolves into formlessness, and at the same time the one-point regenerating formlessness into form. Your body's center is the crucible of transformation.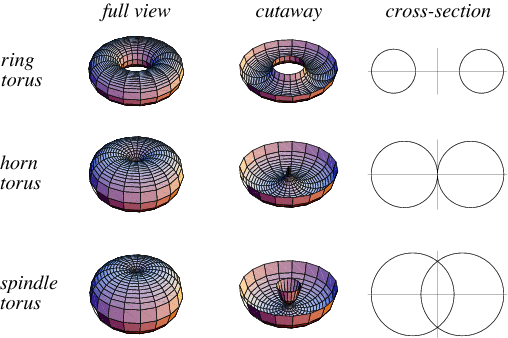 credit: mathworld.wolfram.com/Torus.html
Heaven and Earth
In the Rite for Reconsecrating Our Womanhood, as we enact the gesture named Heaven and Earth, we stand with feet more than hip-width apart, arms reaching upwards, our bodies shaping a double triangle. In this posture, we embody a cross-section of the torus.
Embodying the double triangle, we also call forth the similar shapes that form the Sri Yantra, an ancient portal into the presence of the Great Goddess.
The words accompanying this gesture articulate the co-creative relationship between self and world:
We acknowledge ourselves
as creation and creator
of heaven and earth.
We receive energy from the universe into our body's center and we send energy out into the universe from our body's center. We live within the torus-flow of life energy.
In the Rite for Invoking the Sacred Feminine, the Heaven and Earth gesture invokes the sense of ourselves as nested within congruent spheres of being. The gesture enacts this body prayer addressed to the Sacred Feminine:
Come, awaken your presence within me.
Be seeded within my womb
as I am seeded in yours.
Within this womb-point, this one-point,
we meet and know ourselves
to be the same.

Our Human Ancestry
What about the origin of "belly magic"?
The origin of belly magic may be as ancient as our human ancestors' upright posture. Belly magic may have played a part in the first modern humans' primacy with respect to the Neanderthal population in Europe and western Asia. Belly magic may have equipped the human species with the capacity to survive and the opportunity to continue evolving.
In the next installment, I'll reveal ways in which humans' uniquely large brains and unique capacity to walk upright might have made belly magic absolutely necessary to the continuity of humankind.
Last modified on